• Our flower delivery boxes fit standard flower bouquet size perfectly
• Easy and fast postal packaging solution
• 100% recyclable boxes made from recycled paper
Cut-off time 3 pm
Free delivery over £150 *
30 Days Returns
SKU
Dimensions
(Length x Width x Height)
Pallet Quantity
Bundle
CFP01
598x229x165mm
825
25
CFP02
297x287x600mm
150
25
CFP05
578x216x148mm
750
50
CLP02
720x250x180mm
500
50
PRODUCT DETAILS
Flowers are delicate and are a real challenge to ship! Our range of flower shipping boxes is designed specifically to meet e-florists' needs. Depending on how you send your flowers, we offer different solutions to place flower bouquets vertically or horizontally. With our flower delivery boxes, your customers will receive their flowers in perfect and mint conditions.
Recommended for
Florists and e-florists

Garden centers
Specifications CFP01 & CFP02
Box thickness of 2 mm with brown cardboard recycled paper quality of 110gsm

CFP02 includes a flower bouquet holder for safe shipping. Ideal for vertical use

Easy to assemble, with two adhesive strips for closing

With easy-opening strip

Environmentally friendly, 100% recyclable
Specifications CLP02 & CFP05
CLP02 has box thickness of 2 mm white kraft outside and brown kraft inside

CFP05 has box thickness of 2 mm brown kraft outside and white kraft inside

Both CLP02 and CFP05 have a punched out handle for safe and easy carrying

Easy to assemble, with tuck in flaps to close

Environmentally friendly, 100% recyclable
General Specifications
Those products are not designed to be used for heavy duty products unless stated otherwise, not to be used under high humidity or high temperatures conditions

All dimensions may vary by up to 3mm
KEY FEATURES
Our flower shipping boxes are the ideal packaging solution for flower bouquets
DS Smith has designed these flower delivery boxes specifically to pack and send flower bouquets without damaging them.
Easy and fast to assemble
Our flower shipping boxes CFP01 & CFP02 have a double adhesive strip to ensure smooth assembly, and an easy-opening tear strip to guarantee customer satisfaction.
Simply assemble the box, close the base with the first self-adhesive strip, place the flower and close the flower box with the second self-adhesive strip.
Safe flower bouquet shipment
Our flower shipping boxes CFP02 features a circular cutout that holds flower bouquets safely in place. Its secure design prevents movement, ensuring that your flower bouquet arrives in excellent condition. The die-cut handle on top of the box supports easy carrying.
Our flower delivery box CLP02 and CFP05 have a cut out handle for easy carrying during transit. The handle holes also let air inside the box to keep the flowers breathing and guarantee a delivery in mint condition.
100% recyclable flower shipping boxes made from recycled paper
DS Smith is a leading supplier of sustainable packaging solutions. We produce boxes for our customers, collect them once they have been used, and recycle them back into more boxes. It takes only two weeks for paper fibre to move around our business, and we handle over 5 million tonnes every year. That is the weight of 25 000 jumbo jets!
CIRCULARITY
One of the most important principles of the circular economy is designing for circularity, which involves products and services being designed with their end-of-life in mind, making it easier to recover and regenerate materials.
DS Smith has developed a series of circular design metrics which give us an accurate picture of the degree of implementation of circular design principles in the production of our packaging solutions and provide quantifiable data to show how circular a given packaging solution is and allow quick identification of the areas of improvement required.
Our Circular Design Metrics measure Supply Chain Optimisation, Recyclability, Planet Safety, Material Utilisation, Renewable Sources, Recycled Content, the Carbon Footprint and Design for Reuse.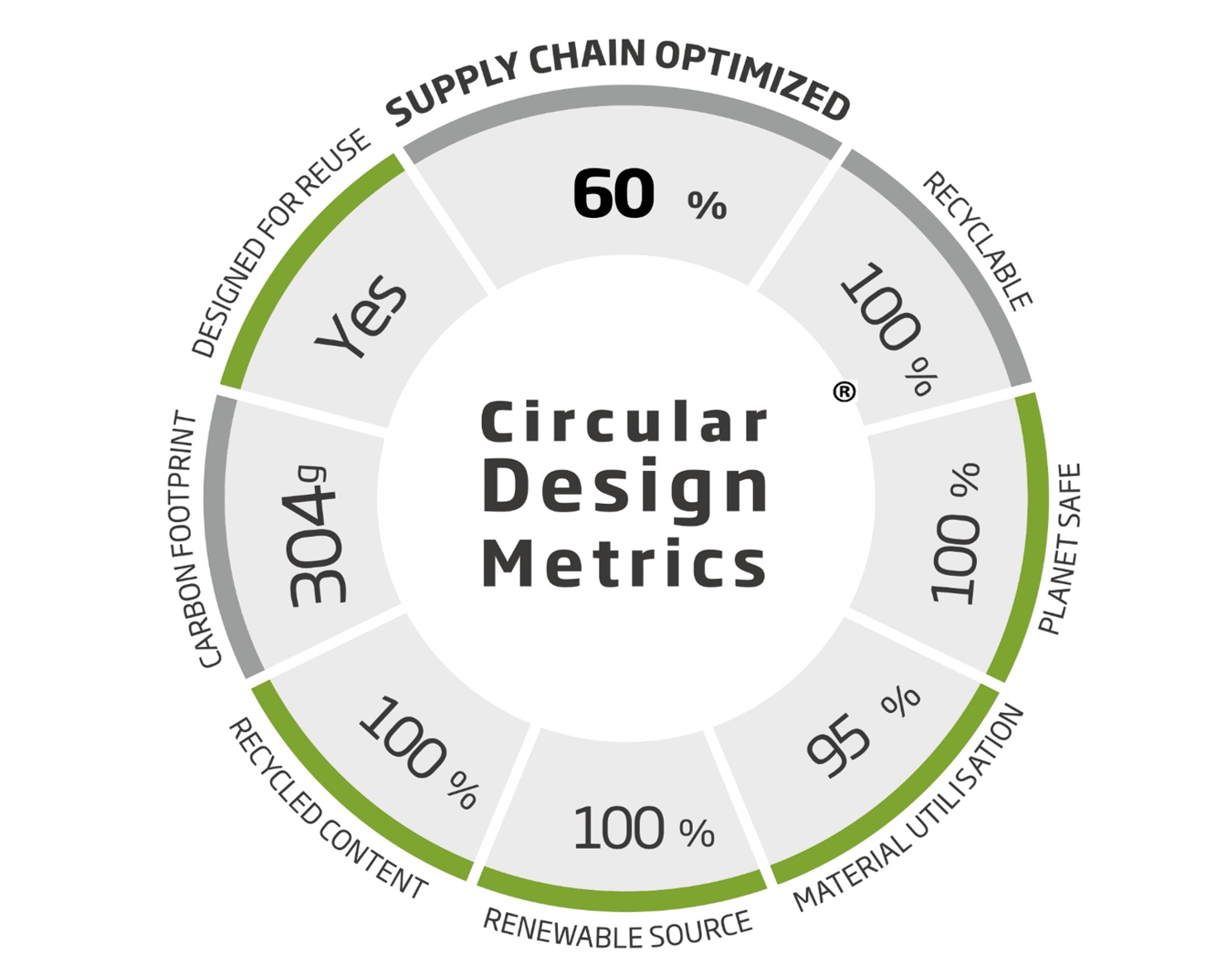 * This circularity information was made by using the information of an average flower shipping box.
Are you interested in ordering larger quantities of our flower delivery boxes?
Please contact us via email at shop@dssmith.com.