• All-in-one protective packaging solution, with no void fill requirement
• Cost-effective, all-in-one protective packaging
• Ideal for mobile phone resale and refurbishment businesses
Free delivery over £100 *
30 Days Returns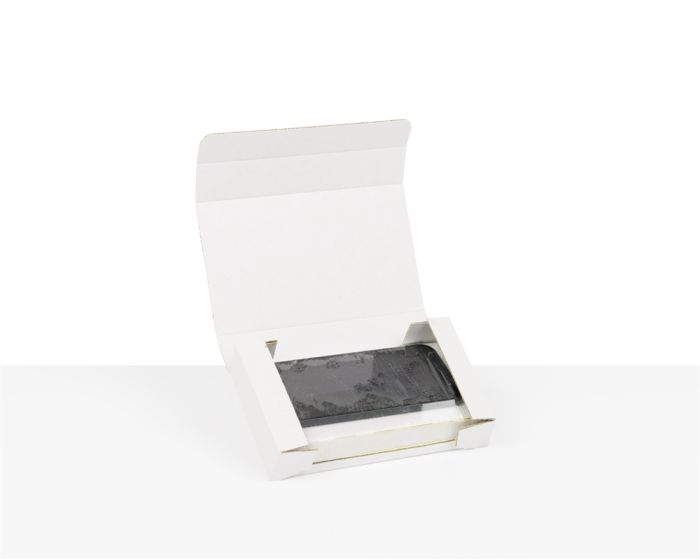 /* THis script added for configurable video, without - not working*/?>
PRODUCT DETAILS
Mobile phones require special attention when it comes to shipping. At DS Smith, we have developed a range of retention packs with e-retailer's specific needs in mind. Browse our range of size options to find the perfect match. Our all-in-one design helps ensure high-level protection for mobile phones during transit.
Recommended for
Mobile phones

Electronic devices

Resale and refurbishment businesses
 Specifications
Box thickness of 2 mm with white cardboard recycled paper quality of 120gsm and stretch film

Fits mobile phones up to 170 x 100 x 30 mm
KEY FEATURES
All-in-one protective packaging solution
Mobile phones need protective packaging during shipment, not only to immobilise them but also to provide space around them to avoid movement and shocks.
A good protective packaging solution holds items securely in place, preventing damage from movement inside the box. It also leaves ample room around items to help avoid damage from external impacts.
Our retention pack for mobile phones, made from micro-flute cardboard and stretch film, offers comprehensive protection.
Cost-effective, all-in-one protective packaging
Our smart retention pack for mobile phones provides a unique one-piece solution for protecting your products. It helps you save money and space by getting rid of void fill and packing tape.
Ideal for mobile phone resale and refurbishment
Our retention pack for mobile phones is a smart solution for smartphone resale or refurbishment businesses. The flexible stretch film is designed to fit various sizes, enabling you to use the same box for different smart phone models. Pack each phone in a matter of seconds, close the box with our convenient glue strip and rest assured that it will arrive in perfect condition.
Are you interested in ordering larger quantities?
Please contact us via email at shop@dssmith.com.