• Our flower delivery boxes fit standard flower bouquet size perfectly
• Easy and fast postal packaging solution
• 100% recyclable boxes made from recycled paper
Free delivery over £100 *
30 Days Returns
Next Day Delivery
(for orders placed before 3pm)
* Please refer to our
delivery policy
page. Order before 3pm to get your order the next working day. The cut off time for orders that need to be delivered by pallet is 12:00 noon. For any queries please contact us.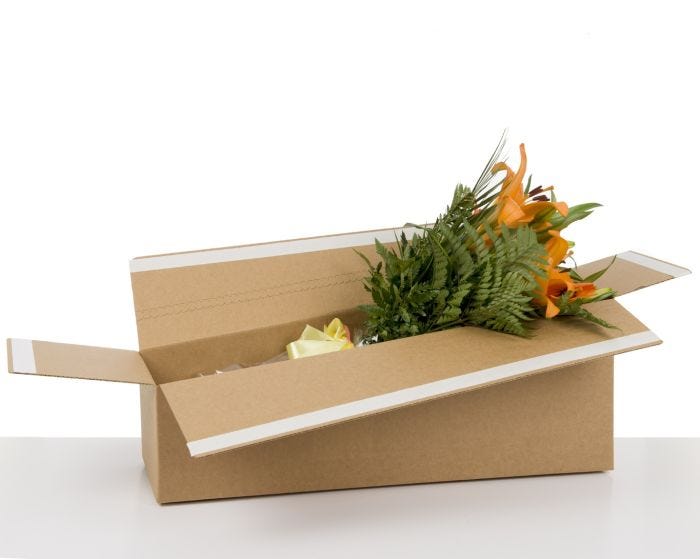 /* THis script added for configurable video, without - not working*/?>
PRODUCT DETAILS
Flowers are delicate and are a real challenge to ship! Our range of flower shipping boxes has been designed specifically to meet e-florists'needs. With our flower delivery boxes, your customer will receive their flowers in perfect conditions.
Recommended for
Specifications
Box thickness of 2 mm with brown cardboard recycled paper quality of 110gsm
CFP02 includes a flower bouquet holder for safe shipping. Ideal for vertical use.
Easy to assemble, with two adhesive strips for closing
With easy-opening strip
Environmentally friendly, 100% recyclable
KEY FEATURES
Our flower shipping boxes are the ideal packaging solution for flower bouquets
DS Smith has designed these flower delivery boxes specifically to pack and send flower bouquets without damaging them.
Easy and fast to assemble
Our flower shipping boxes have a double adhesive strip to ensure smooth assembly, and an easy-opening tear strip to guarantee customer satisfaction.
Simply assemble the box, close the base with the first self-adhesive strip, place the flower and close the flower box with the second self-adhesive strip.
Safe flower bouquet shipment
Our flower shipping box CFP02 has a circular cutout that holds flower bouquets safely in place. Its secure design prevents movement, ensuring that your flower bouquet arrives in excellent condition. There is also a die-cut handle on top for easy carrying.
100% recyclable flower shipping boxes made from recycled paper
DS Smith is a leading supplier of sustainable packaging solutions. We produce boxes for our customers, collect them once they have been used, and recycle them back into more boxes. It takes only two weeks for paper fibre to move around our business, and we handle over 5 million tonnes every year. That is the weight of 25 000 jumbo jets!
Are you interested in ordering larger quantities of our flower delivery boxes?
Please contact us via email at shop@dssmith.com.